okaymmo:Tree of Savior Announcement on Founder's Server and the Future Schedules
Greetings, this is the TOS Team.
First of all, we would like to show our utmost gratitude to all of you who have been eagerly waiting for the TOS English Version for a long time.
We are glad to inform you that our schedule has been confirmed.
The TOS English version on Steam will kick off by offering 'Founder's Server: Exclusive Access' that will initially allow access to the buyers and service will be open to everyone after 3 months.
3 types of 'Founder's Server: Exclusive Access' will be released sequentially as the service period elapses.
Founder's Server: Exclusive Access is scheduled to be sold from March 16th, but it is subject to change depending on the timing of Steam's authorization.
We've come up with this initial access to prevent numerous Bot Accounts from the early stages of service and to provide a stable in-game environment to our users.
Furthermore, the TOS English version will contain various customized contents that won't be seen in the Korean version.
We will continuously develop or make changes on various contents specifically for the TOS English Version so we hope everyone knows about this in advance. (*Please refer to notices and precautions below.)
We've requested review for the exclusive access to Steam and sales will commence as soon as Steam authorizes it.
We will continuously update you with the future status.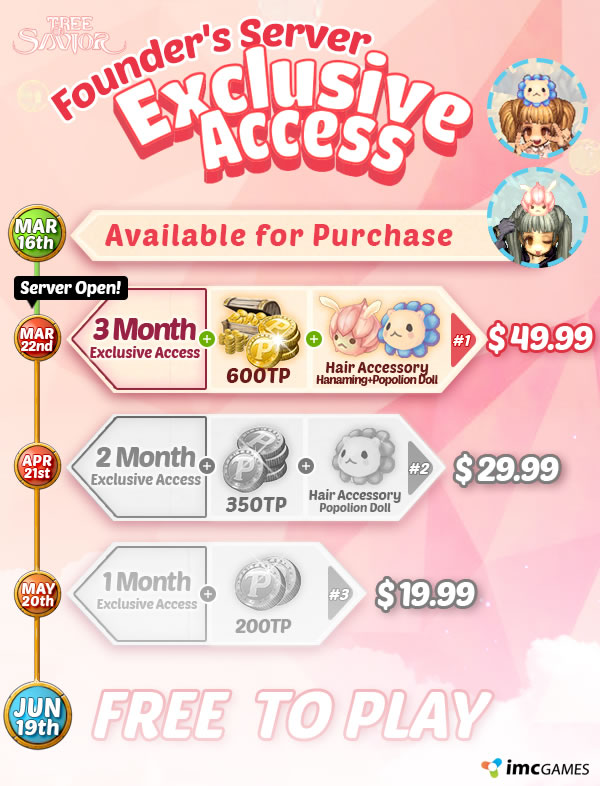 [Notices and Precautions when purchasing 'Founder's Server: Exclusive Access']
- The users from territories where we have local partners will be restricted from purchasing from the Steam Store and login to the English server.
- The following territories will be restricted. "Korea/Japan/Taiwan/Indonesia/China"
- As for Taiwan, we will make a separate announcement soon.
- The composition of items at the TP shop and their prices may differ from the Korean version.
- Maximum 5 TP can be accumulated free of charge. 1 TP will be recharged every 4 hours.
- Some contents, character balance, etc may differ from the Korean version.
- The number of Worlds that will be opened will depend on the number of initial users online.
- When the game service goes into Free to Play (June 19th), the new worlds might be added accordingly.
[MAR 16th UPDATE - Further Details / Clarification]
- We have plans to add new servers in June in accordance to the player base
- New players may decide which server they wish to play on depending on the server situation.
- There will be no data wipe of Teams or items
[MAR 16th UPDATE - FAQ]
- Servers will be located on the east coast of the US, same as the iCBT servers
- 100 TP is priced at approximately USD$9.00
- EXP gained through hunting will be at the same rate as kTOS
- The price we announced is based on the price that will be applied to the US. Please check the Steam Store Page for your regional prices. They will be adjusted by Steam Standards.
Anyone are welcomed to redistribute, copy, quote, reference or perform content in this site, if and only if he/she attributed the work