okaymmo:Path of Exile: Siege of the Atlas Expansion Details
PoE ushered in the biggest update ever - Siege of the Atlas. In this annual feast, brand new endgame content will be waiting for you to challenge!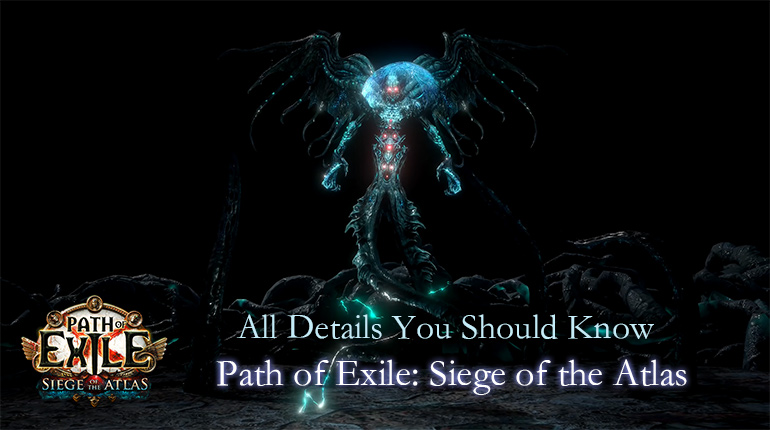 In Path of Exile: Siege of the Atlas, two new Eldritch Horrors threaten to consume the Atlas of Worlds. Join Commander Kirac's militia and defend the Atlas and Wraeclast itself against these celestial foes.
This large endgame expansion contains new Atlas systems, pinnacle bosses, one gigantic Atlas passive skill tree, Eldritch implicit endgame crafting, new unique items, the Archnemesis Challenge league and much more.
New Eldrich Horrors invade the Atlas
Having assumed responsibility for the defense of the Atlas, Commander Kirac has established a base in the Karui Archipelago with several map devices. He has heard rumours of your prowess and invites you to join his militia in order to scout the Atlas to learn about threats to Wraeclast. You encounter the Maven and discover that two new Eldritch Horrors are here: The Searing Exarch and The Eater of Worlds. They must be stopped before they consume everything.
The Searing Exarch and The Eater of Worlds are the most powerful beings that Wraeclast has ever seen. The path to defeating them involves exploring many influenced maps and slaying their formidable subordinates, The Black Star and The Infinite Hunger, yielding valuable rewards.
Goodbye Watchstones, hello Voidstones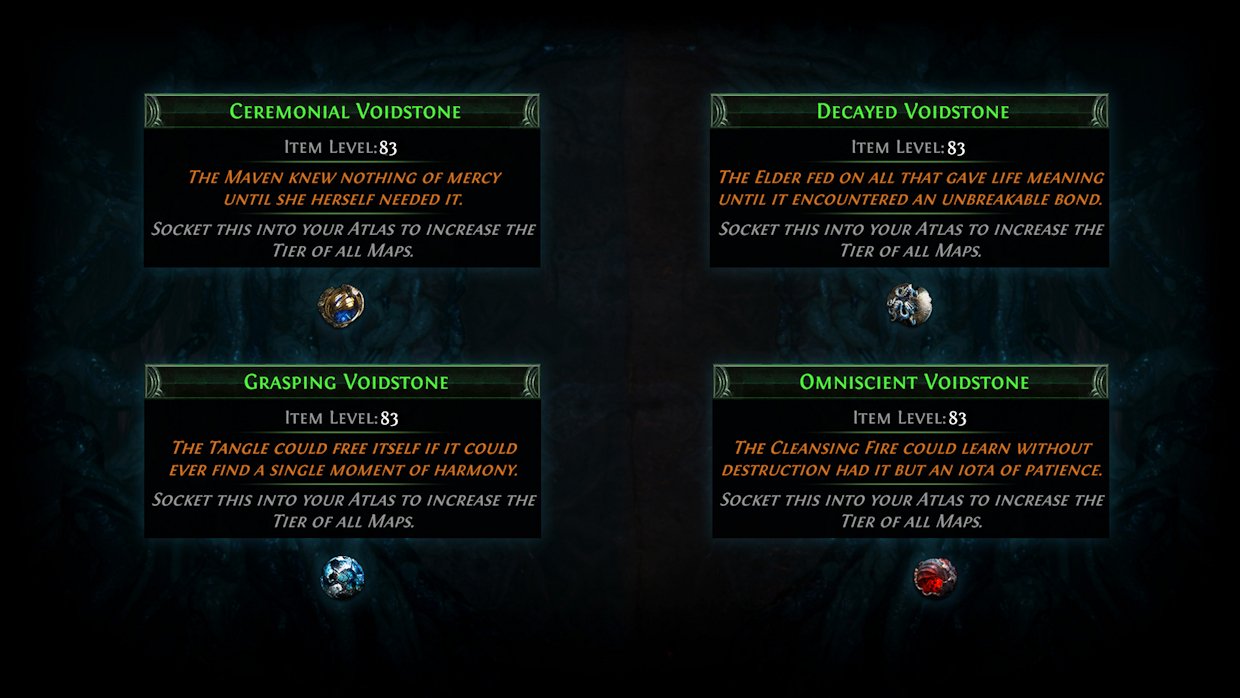 Most Atlas mechanics have been reworked with a goal of creating deeper systems that are easier to understand. Regions have been removed, so your Atlas specialisation affects every map you run. Where you'd previously collect 16 Watchstones, you must now earn four Voidstones which let you raise the tier of all maps on your Atlas until they are uniformly tier 16. Sextants can apply to Voidstones and be itemised and traded. Commander Kirac offers a large variety of Atlas objectives that add valuable content to your maps.
Atlas Passive Trees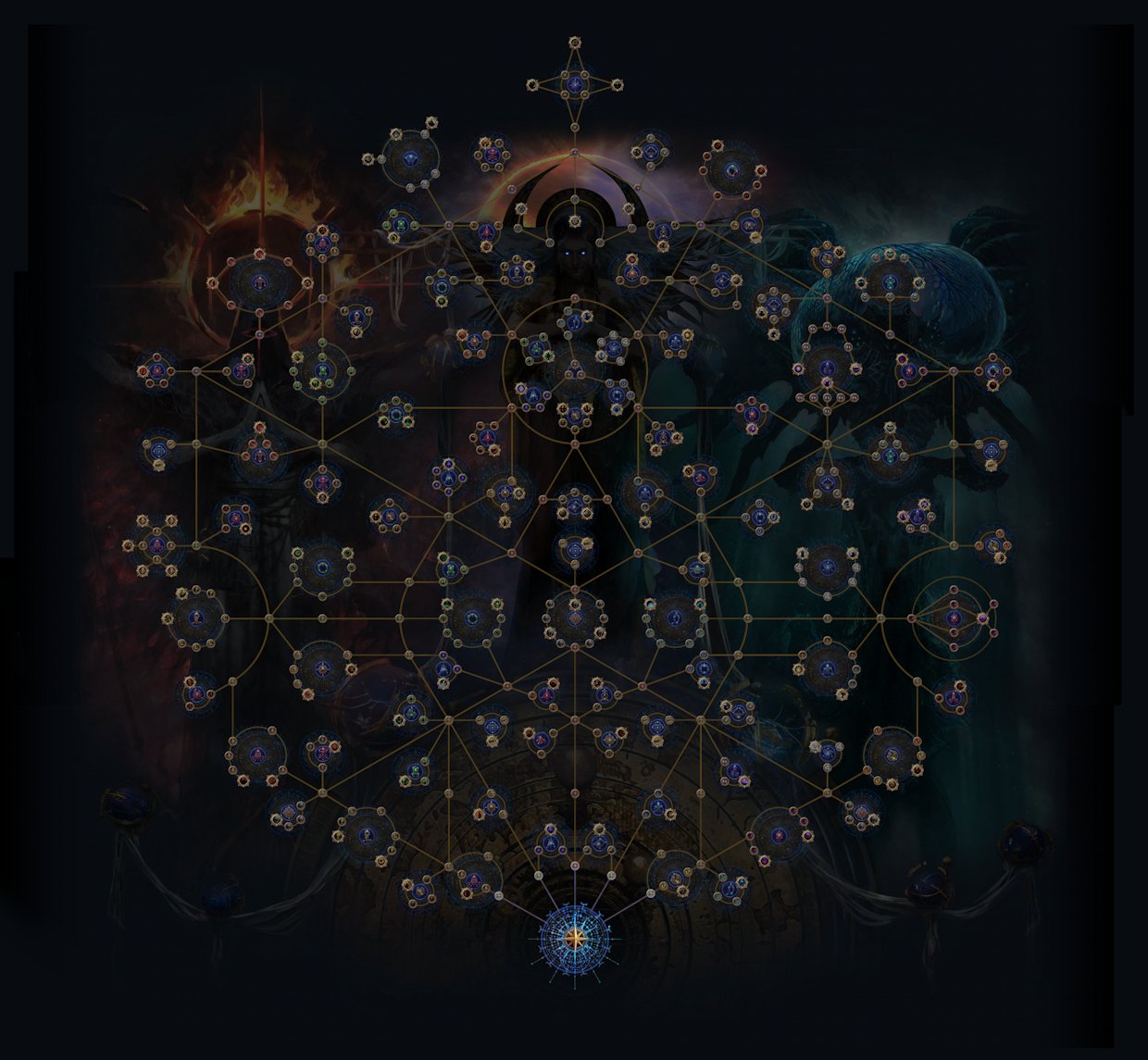 Say goodbye to regional Atlas Passive Trees and hello to one gigantic Atlas-wide Passive Tree with over 600 skills to specialise in. Every map as well as various Atlas quests you complete will earn you an Atlas skill point. In addition to the best skills from the regional trees, we have created many completely new ones that let you choose your own level of risk and reward for Atlas content.
Eldritch Implicit Mods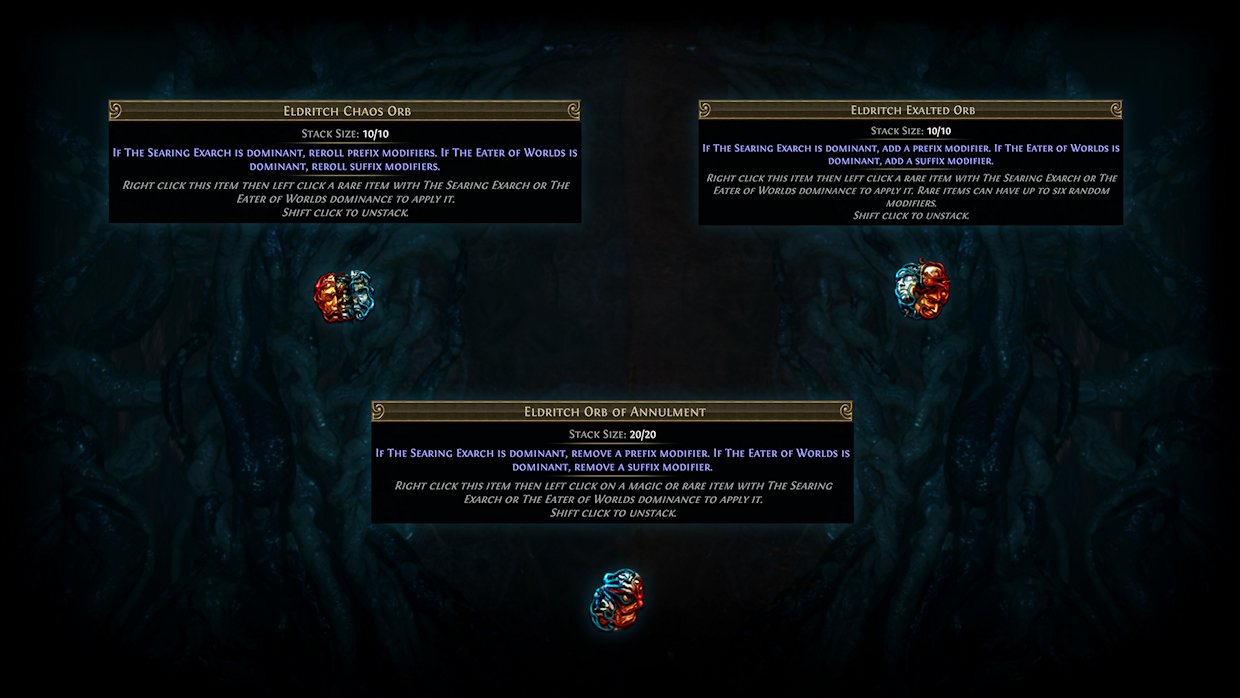 The Searing Exarch and The Eater of Worlds each have a powerful set of Eldritch Implicit Modifiers, which can be imbued onto items using Eldritch Embers and Eldritch Ichor, respectively. Although this process replaces existing implicit mods, it's possible to have both types of Eldritch Implicits on an item at the same time.

You can use an Orb of Conflict to manipulate the tiers of these modifiers on your item, within the six tiers of modifiers available. When applied, the Orb randomly increases the tier of one modifier and lowers the tier of the other. The new Eldritch Chaos Orb, Eldritch Exalted Orb and Eldritch Orb of Annulment can manipulate the prefixes or suffixes of an item depending on whether The Searing Exarch or The Eater of Worlds has a higher Eldritch modifier on it.
New Uniques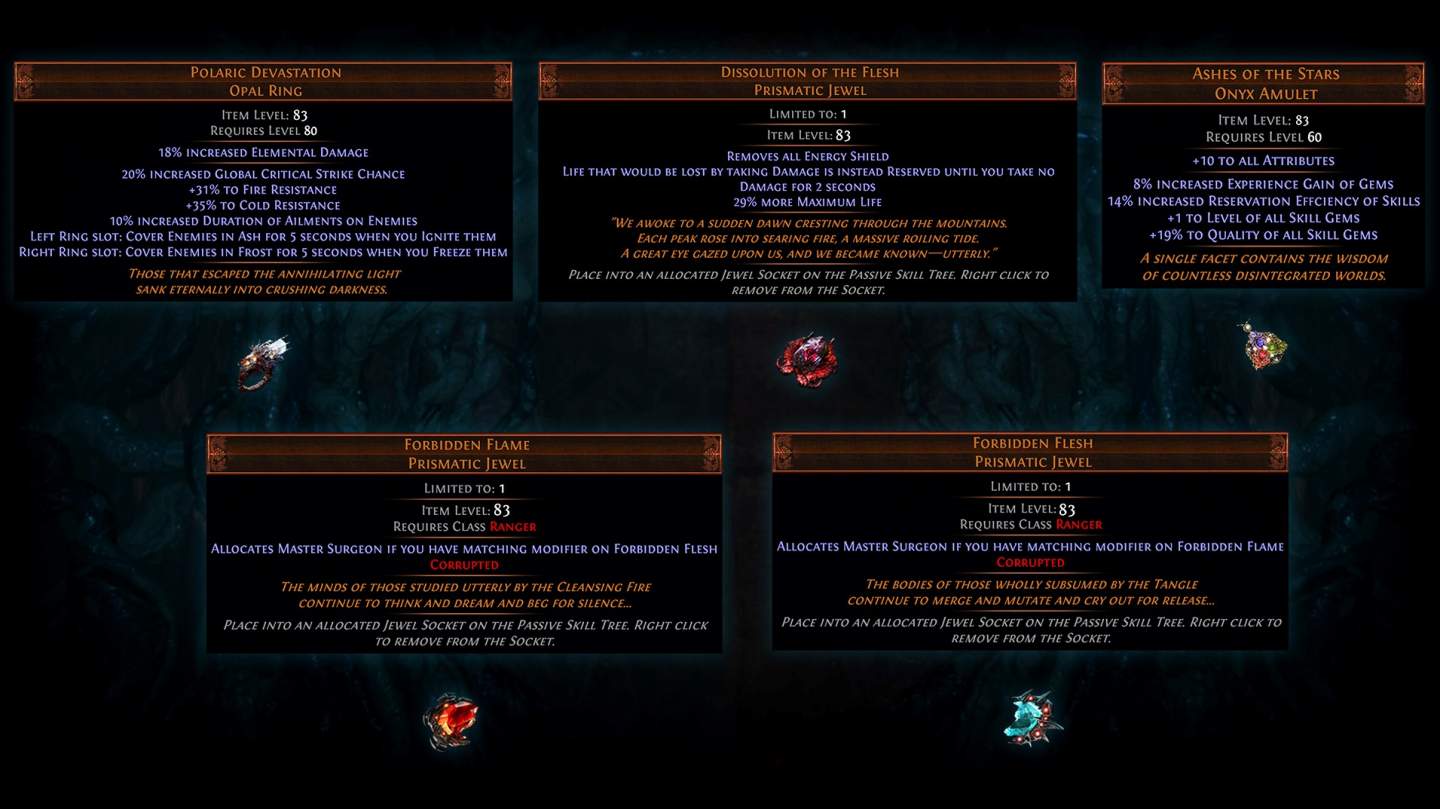 GGG also announced several new unique items that will be added to the game with the Siege of the Atlas expansion, which can be seen in the image above. For more details on these beyond what their tooltips reveal, check out the VOD of today's live stream.
Archnemesis Challenge League
In the Archnemesis league, you'll build your own Rare boss fights by applying new monster modifiers to petrified monsters, found throughout every area. These modifiers add dangerous behaviours to their targets but also imbue them with valuable rewards. Each subsequent petrified monster you imbue within an area keeps all of the previous modifiers applied, allowing you to build some extremely difficult and rewarding encounters. There are over 60 new boss modifiers to discover, more than half of which can be created by combining other modifiers in specific recipes to unlock the most powerful and rewarding modifiers.
PC and Console Released Data
Overall, it sounds like the Archnemesis Challenge League will be a nice addition to the already extensive Siege of the Atlas expansion. The content will be available in Path of Exile when the Siege of the Atlas expansion launches on February 4th, 2022, for PC and February 9th, 2022, for Xbox One and PlayStation 4.
Anyone are welcomed to redistribute, copy, quote, reference or perform content in this site, if and only if he/she attributed the work