okaymmo:PoE 2021 December Event - Atlas Invasion
Atlas Invasion is the fifth event in December. Horrors from other worlds have invaded through the Map Device, and are rampaging through Wraeclast.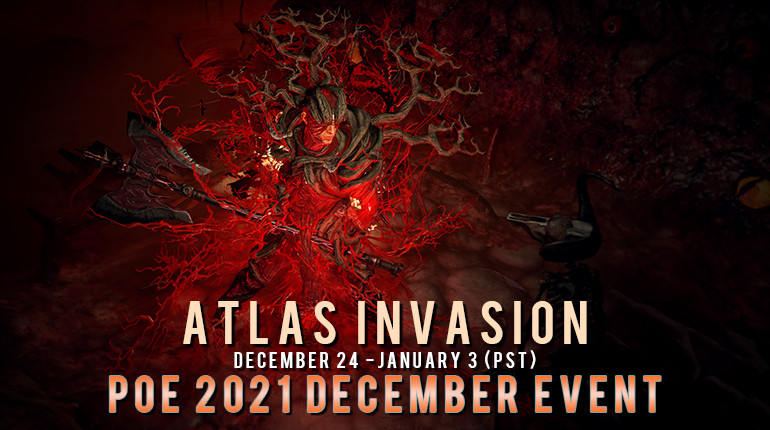 This event works much more like a normal Path of Exile league than the previous events, but every area (other than the Twilight Strand) contains five endgame map bosses who are eager to turn you into mince. Should you kill them, they are guaranteed to drop unique items. Any boss that can be witnessed by The Maven can potentially appear, so try not to let the temptation go to your head when The Shaper shows up in the Mud Flats! Endgame map areas also contain these extra bosses.
Starting at Noon December 24 (PST)
Ending at Noon January 3rd (PST)
Standard, Hardcore, Standard Solo Self-Found, Hardcore Solo Self-Found versions available.
This event is voided. (Items and characters do not transfer to parent leagues at the end of the event).
Atlas Invasion Event Prizes
Demigod's Authority
The top five of each Ascendancy Class in all versions of the event will be awarded a Demigod's Authority. Each Demigod's Authority will display your event class rank. Changing your Ascendancy Class is disabled for the duration of the event.
Atlantis Mystery Box
In the Atlas Invasion Event, you'll be automatically awarded an Atlantis Mystery Box for reaching level 50. This is a guaranteed prize that's only available once per account. Leveling multiple characters in the same event will not grant multiple mystery boxes.
Random Draw Microtransactions
If you reach one of the level thresholds below, you'll automatically be in the draw to win one of the microtransaction prizes below. These will be drawn at random and shared across all versions of the event.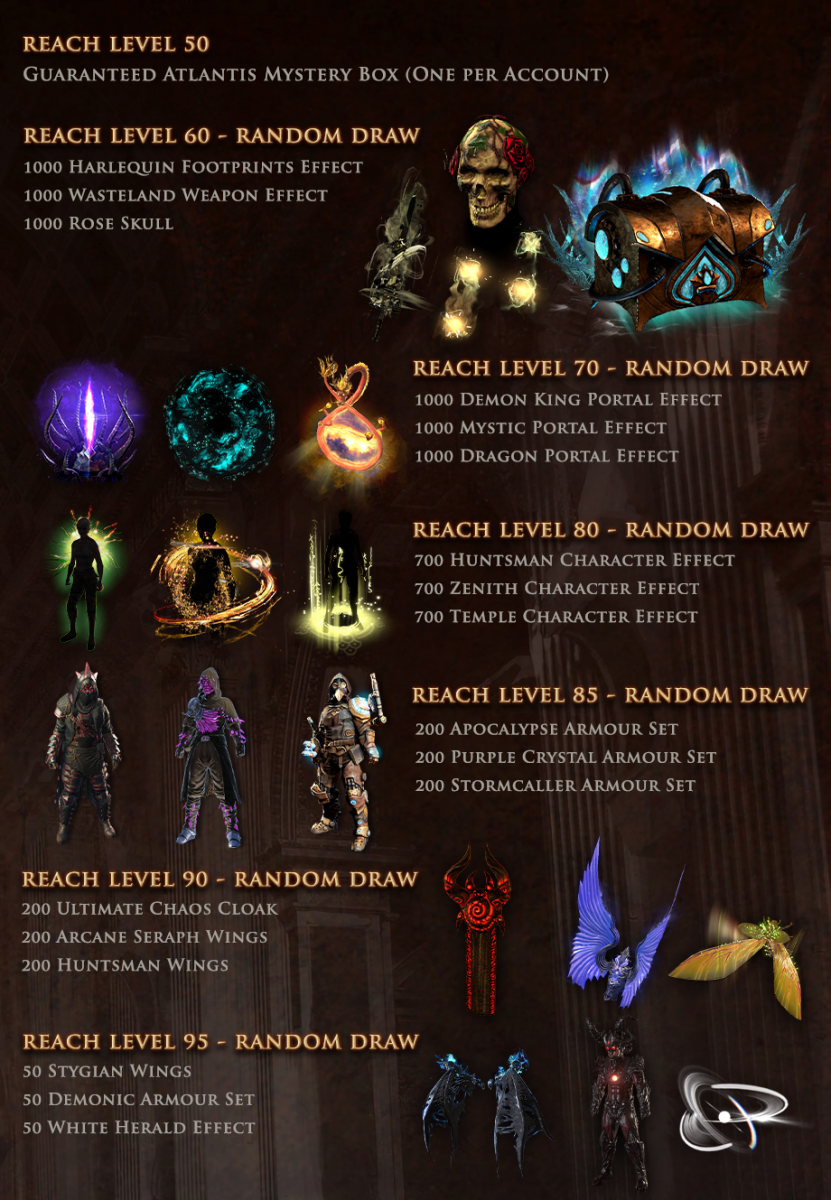 The microtransaction prizes are not awarded automatically based on meeting the level requirements. Prizes will be awarded after the end of the event. Leveling multiple characters in the same event will increase your chances of winning one of the randomly-drawn prizes.
Anyone are welcomed to redistribute, copy, quote, reference or perform content in this site, if and only if he/she attributed the work