okaymmo:PoE 2021 December Event - Delirium Everywhere
Delirium Everywhere is the fifth event in December. In this event, your Exile has finally succumbed to Delirium.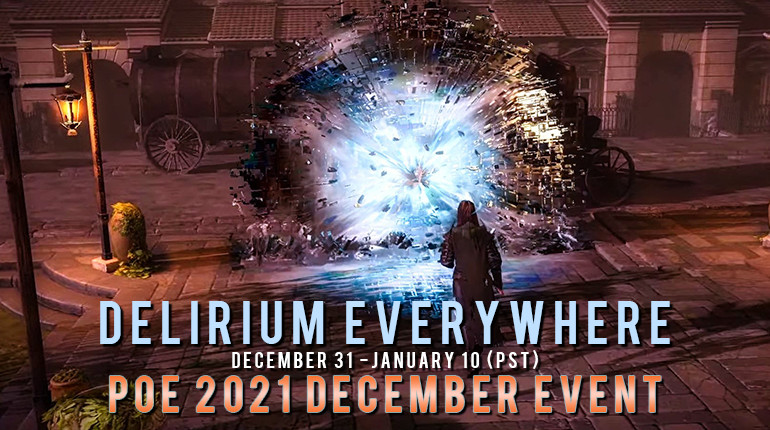 Almost every campaign and endgame map area has permanent Delirium fog, ranging randomly from 1% to 100% Delirium. This has all the usual effects — monsters getting buffed, new monsters spawning, reward bars filling with kills, and Simulacrum splinters dropping. To avoid spam-refreshing areas being the best strategy, each area always has the same delirium percentage, and Delirium reward types are randomised each time they drop. We've made sure that campaign areas where you have to kill certain monsters aren't too crazy… mostly.
Mirrors of Delirium cannot spawn in this event. If you get your hands on a Delirious map, it functions as normal, overriding the special rules of this event.
Starting at Noon December 31 (PST)
Ending at Noon January 10th (PST)
Standard, Hardcore, Standard Solo Self-Found, Hardcore Solo Self-Found versions available.
This event is voided. (Items and characters do not transfer to parent leagues at the end of the event).
Delirium Everywhere Event Prizes
Demigod's Authority
The top five of each Ascendancy Class in all versions of the event will be awarded a Demigod's Authority. Each Demigod's Authority will display your event class rank. Changing your Ascendancy Class is disabled for the duration of the event..
Atlantis Mystery Box
In the Delirium Everywhere Event, you'll be automatically awarded an Atlantis Mystery Box for reaching level 50. This is a guaranteed prize that's only available once per account. Leveling multiple characters in the same event will not grant multiple mystery boxes.
Random Draw Microtransactions
If you reach one of the level thresholds below, you'll automatically be in the draw to win one of the microtransaction prizes below. These will be drawn at random and shared across all versions of the event.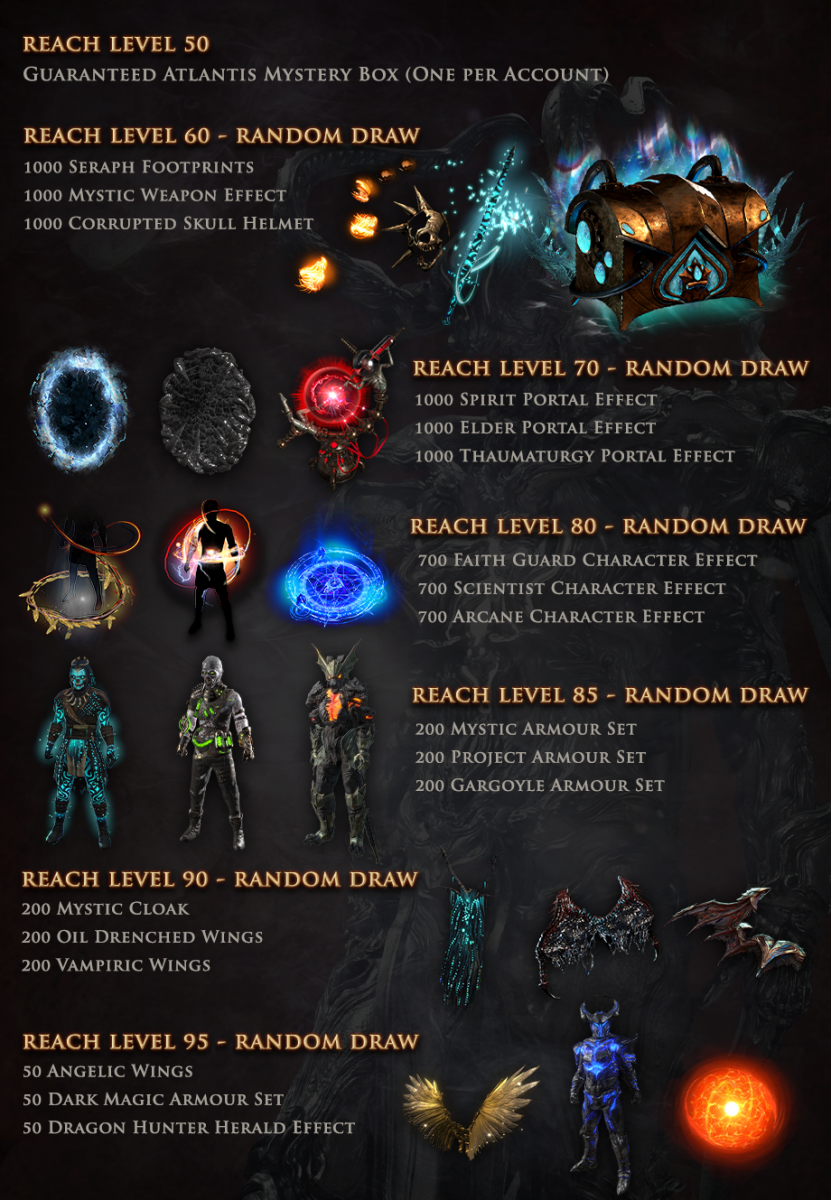 The microtransaction prizes are not awarded automatically based on meeting the level requirements. Prizes will be awarded after the end of the event. Leveling multiple characters in the same event will increase your chances of winning one of the randomly-drawn prizes.
Anyone are welcomed to redistribute, copy, quote, reference or perform content in this site, if and only if he/she attributed the work