okaymmo:PoE 2021 December Event - Zizaran's Gauntlet
Zizaran's Gauntlet is the third event in December. Racers will compete and earn points by leveling characters, killing bosses and delving.
On December 10th, community streamer Zizaran has organised a 10-day Class Gauntlet Event in the Scourge League. Racers will compete and earn points by leveling characters, killing bosses and delving to see how all of the classes fare in some of Path of Exile's most difficult encounters. The event will take place as a Hardcore Solo Self-Found Event League provided by us with a range of damage and life mods active. The prize pool is funded by the community and Zizaran's Event Partner.
The event will have Increased Monster Damage, More Monster Life, Increased Monster Speed, Increased Area of Effect and two new mods: Additional Projectiles and Increased Life of Unique Monsters. We have created this as an Event League that is available to all players. To join, simply log in on the day of the event and click "Join" in the bottom right corner of the character selection screen.
Players will receive points based on levels, specific boss kills as well as their Delve progress. Don't forget, to get boss kill points you must submit your kills in the Path of Exile Community Racing Discord which you can join by clicking here.
Starting at Noon December 10 (PST)
Ending at Noon December 20 (PST)
Zizaran's Gauntlet Prizes
The prize pool is crowdfunded by Zizaran's event partner and community streamers! In addition, streamers and their communities will be able to create a bounty with the money they fundraise for the event. Bounties are a custom prize that can be awarded to players for achieving a specified goal in the event. Keep an eye out on their social media for announcements regarding when their fundraisers are taking place and what they will be!
Zizaran's Event Partner will be matching all contributions to the prize pool (Up to $25,000). The total prize pool will be split as follows:
The bounties placed by streamers and their communities during the fundraisers
The prize pool minus bounties will be awarded as follows:
- Rank 1 Overall: Gauntlet Trophy + 12% Bonus
- Rank 2 Overall: 4% Bonus
Witches
Top Witch: 8%
Second Witch: 4%
Shadows
Top Shadow: 8%
Second Shadow: 4%
Rangers
Top Ranger: 8%
Second Ranger: 4%
Duelists
Top Duelist: 8%
Second Duelist: 4%
Marauders
Top Marauder: 8%
Second Marauder: 4%
Templars
Top Templar: 8%
Second Templar: 4%
Scions
Top Scion: 8%
Second Scion: 4%
Demigod's Authority
The top five of each Ascendancy Class will be awarded a Demigod's Authority. Each Demigod's Authority will display your event class rank. Changing your Ascendancy Class is disabled for the duration of the event.
Atlantis Mystery Box
In this event, you'll be automatically awarded an Atlantis Mystery Box for reaching level 50. This is a guaranteed prize that's only available once per account. Leveling multiple characters in the same event will not grant multiple mystery boxes.
Random Draw Microtransactions
If you reach one of the level thresholds below, you'll automatically be in the draw to win one of the physical and microtransaction prizes below. These will be drawn at random.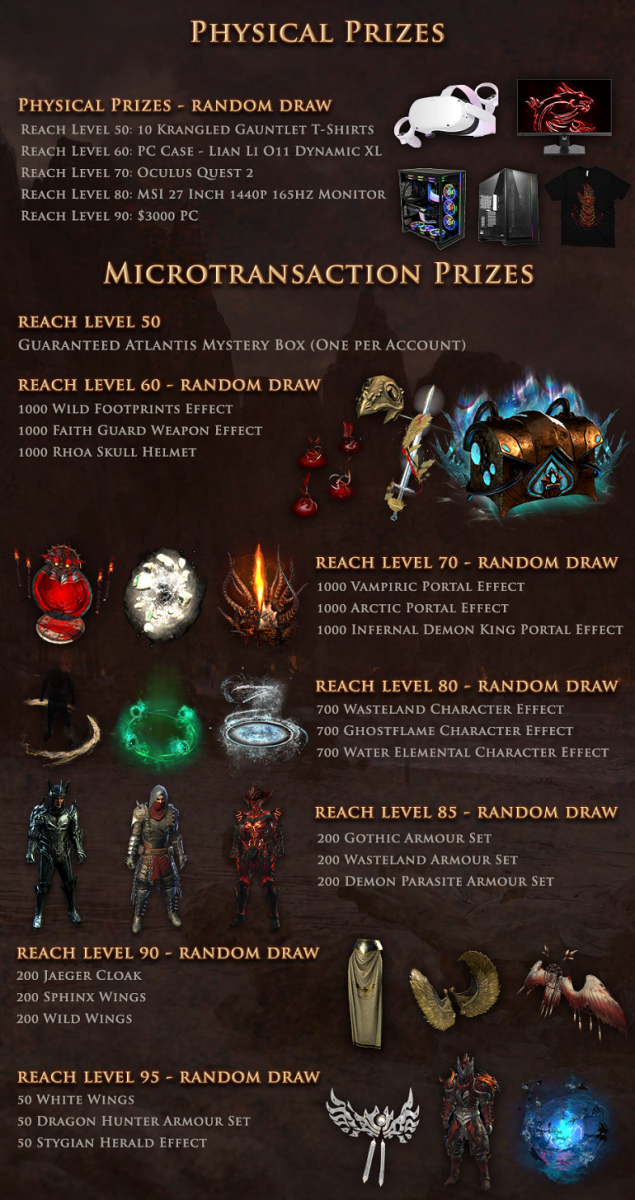 The microtransaction prizes are not awarded automatically based on meeting the level requirements. Prizes will be awarded after the end of the event. Leveling multiple characters in the same event will increase your chances of winning one of the randomly-drawn prizes.
Anyone are welcomed to redistribute, copy, quote, reference or perform content in this site, if and only if he/she attributed the work