okaymmo:PoE Archnemesis 3.17.3 Patch Notes
This PoE Archnemesis 3.17.3 patch contains pc controller support and various improvements.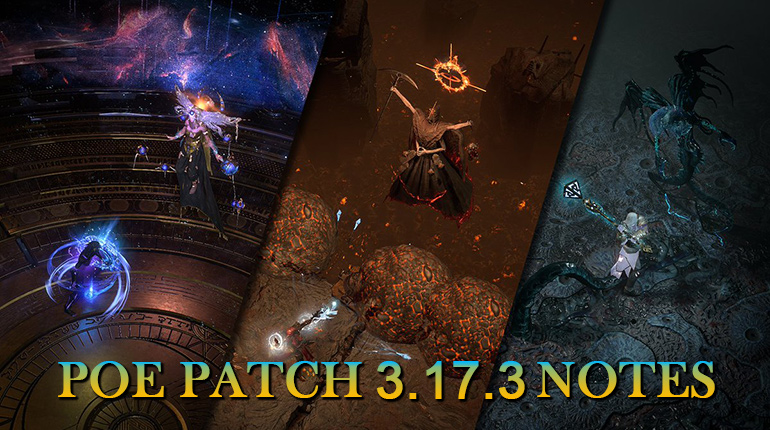 PC Controller Support Beta
This patch adds the Beta for PC Controller Support to Path of Exile.
To access this feature, connect a game controller to your PC, launch Path of Exile and go to the Input Options panel. Change the Input Method option to "Controller (Beta)". It should take effect without you having to relaunch Path of Exile. Please report any bugs related to controller support in the Bug Reports forum.
Fixes and Improvements
Using the Highlight Key when hovering dropped items now displays minimum and maximum defensive values again.
The overkill explosion from the Punishment Curse no longer occurs if the curse is owned by the defender or one of their allies.
Fixed the arena mechanic in The Infinite Hunger boss fight so it now stops once the boss is killed.
Fixed a problem with Scourge Arrow where projectiles that were forked or split were not placing pods.
Fixed the Increased Minion Cast Speed quality modifier on Bone Offering so it can now apply to the player when having Mistress of Sacrifice allocated.
Fixed the Tempest Shield quality description as it incorrectly said the Chance to Shock was granted by the buff when it's only local to the skill.
Fixed a bug with the Heist NPCs in Grand Heists displaying wrong values in their buff descriptions.
Fixed a bug with applying Footprint Microtransactions where they did not show until changing area.
Fixed a bug where Shrines could fail to spawn with a pack of monsters.
Fixed a bug where the 'Show All' option on the Character Selection screen was not saving.
Fixed various dialogue audio problems.
Fixed a client crash related to Scorching Ray.
Fixed a client crash related to Stygian Firestorm.
Anyone are welcomed to redistribute, copy, quote, reference or perform content in this site, if and only if he/she attributed the work