MU Legend - how to evolved into new wings
We are aware on how traditional wings are in MU continent right? After all, besides providing a badass visual to your character they also are responsible for an important amount of your character Combat Power. They have been a must have in MU Online and they will play their role in MU Legend.
The idea here today is to tell gamers a little bit more about the MU wings story, telling you how they have been inserted into MU Online, how important they were at the time that it has happened, how they have evolved into new wings and finally a small comparison with how they will be played in MU Legend.
Just started
Since MU Online has been released, wings have always been available. At the very beginning, the wings were hard to craft and even harder to upgrade: Rarity made their legend but also their prices on the game market!
In MU Online the wings are responsible for two main characteristics: Movement Speed and Attack/Defense Status. Back in the years it was only possible to craft three different types of them, and yes, from the old times to nowadays you will always have to sacrifice some fine equipment in order to craft your wings however, if you succeed they will be a powerful gear to you.
This is how they used to look like, the level one wings:

The developers than decided it was time to develop new wings, as at the time the community was asking for more of these! The release of new ones came together with a new map called Icarus, a new place totally based on winged mobs with the first really challenging boss of the game: Phoenix Boss!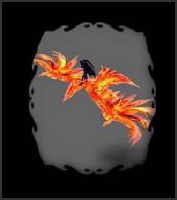 These new mobs gave us the option to drop the new item Lochs Feather , being able to go for the next level wings:

With the flux of time our players became real masters on crafting and upgrading these wings, was time for something new and Webzen has gifted players with a new type of wings, level 3!

They are indeed very rare and powerful in MU Online, even today a few years later after they been released!
Let's bring it to MU Legend!
Player will be able to equip their wings since the first version of the game with your first wing been given through a main quest with a good explanation on how/why to use them. We will show here a few of them, at least those that we consider a direct evolution from the wings mentioned before in this text, however, make no mistake we will have much more types of wings for your character and more news about them should pop soon!
In MU Legend they will be at first divided into four different tiers:
1. Heavenly Wings: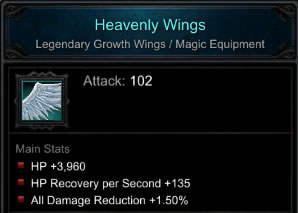 2. Heavenly Wings Tier 1: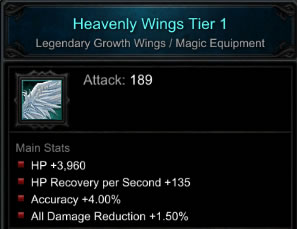 3. Heavenly Wings Tier 2: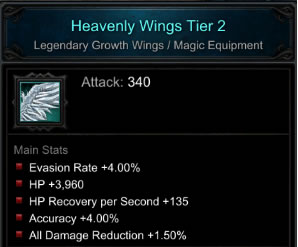 4. Heavenly Wings Tier 3:
Different than MU Online when it has always been necessary to trust on that Goblin of Noria to upgrade our items, I bring here some good news. We will not depend on him anymore! So, there is no chance of him stealing our items anymore!
The Wings upgrade system in MU Legend will run through the "Enchantment Merchant" NPC. He is really simple to find, once you are in any commercial city of MU Legend look for the sword icon in your map. This NPC has an option dedicated only for wings, look for: "Grow Wings"
You should find something like: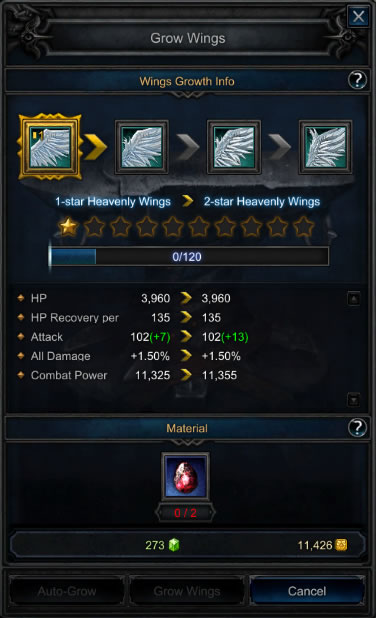 In order to upgrade your wings, you need: Zen, Magic Gems and Material. They can be obtained either from NPCs or by playing Dungeons around the continent of MU Legend. The wings can be upgraded until +10 for each available Tier and them you should evolve it to the next Tier using an Evolution Stone.